Hinrich Foundation releases Vietnam Digital Trade report in Hanoi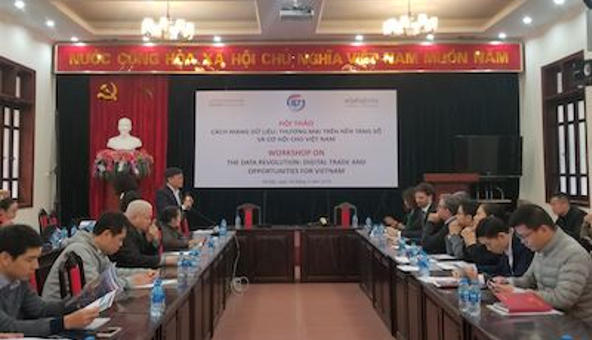 ---
Published 28 March 2019
On March 26, 2019, Hinrich Foundation in partnership with Central Institute for Economic Management (CIEM) and AlphaBeta launched a report, titled "The Data Revolution: How Vietnam can capture the digital trade opportunity at home and abroad," in Hanoi, Vietnam.
The report assesses the current and future potential value of digital trade for the Vietnamese economy. According to the report, the economic value of digital trade-enabled benefits to the Vietnamese economy is estimated to be worth VND 81 trillion (US$3.5 billion) but this could grow by 12-fold under the right settings by 2030.
The event commenced with the keynote speech by Pham Chi Lan, Economic specialist, former Vice Chairman of Vietnam Chamber of Commerce and Industry and Member of the National Council for Sustainable Development and Competitiveness Enhancement.
In her speech to around 120 participants, Pham Chi Lan emphasized on the importance of the report as it highlighted how productivity must be front and centre for Vietnam development strategy, in particular to Industry 4.0.
She further warned about the accuracy of numbers given the poor data quality in Vietnam, especially with regards to the national statistics and said that Vietnam is falling behind.
Pham Chi Lan's speech was followed by report presentation by Dr. Konstantin Matthies, Engagement Manager of AlphaBeta.
In the presentation, Matthies said Vietnam needs to ensure open data flows, rethink content restriction and minimize border frictions in order to reap the US$ 42 billion worth digital trade opportunity by 2030.
According to the report, Matthis said, digital exports account for 2 percent of Vietnam's total export value today, but this could grow by 570 percent to reach US$ 28.7 billion by 2030 in the absence of barriers to digital trade.
Matthis presentation was followed by a lively Q&A session, in which participants asked scores of questions on data management, regulation and legal framework and the role of MSMEs.
For more information on Digital Trade reports, please click here.
© The Hinrich Foundation. See our website Terms and conditions for our copyright and reprint policy. All statements of fact and the views, conclusions and recommendations expressed in this publication are the sole responsibility of the author(s).
---