Hinrich Foundation launches Indonesia Digital Trade Report in Jakarta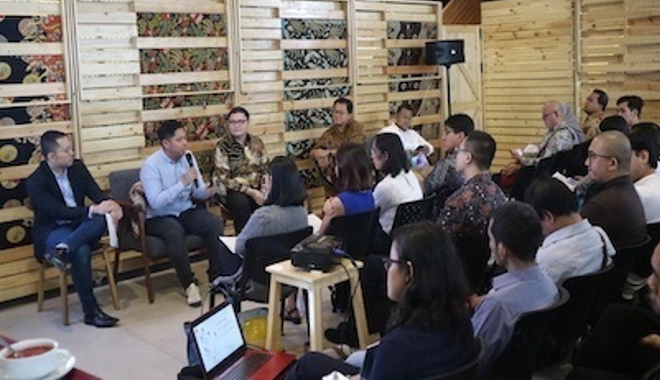 ---
Published 15 February 2019
The Hinrich Foundation with Alphabeta released a research report on Digital Trade in Indonesia, titled "The Digital Komodo Dragon: How Indonesia can capture the digital trade opportunity at home and abroad", on February 12, 2019, at a launch event held in Jakarta, Indonesia.
The report provides a comprehensive study of the current state and potential opportunities that digital trade could create to uplift Indonesia's economy.
The event commenced with the introductory remark from Mohammad Rudy Salahuddin, Deputy Minister for Creative Economy, Entrepreneurship, Cooperatives, and SME's, who emphasized on the government's policy towards regulating both data and information flow, privacy, security, and data sovereignty.
The Indonesia Digital Trade report has recommended actions for leveraging the digital trade opportunities, such as ensure open data flows, promote innovation-oriented approaches to copyright and intermediary liability regulations, and minimize border frictions.
Salahuddin pointed out the importance of data in policy formulation and that the current regulation in Indonesia is based on very limited data. His remarks were followed by a presentation by Alphabeta's Associate, Genevieve Lim. Lim explained the economic value of digital trade-enabled benefits to the Indonesian economy, which is reported to be worth IDR 125 trillion, representing 0.9 percent of its GDP. She further discussed that if digital trade is fully leveraged, it could help Indonesia's domestic sector to grow by more than 18-fold by 2030.
The event concluded with a panel discussion that featured local Indonesian business representatives involved in digital trade.
The Hinrich Foundation considers open digital trade to be a growth opportunity for countries as well as an enabler of major productivity improvements for sectors beyond the digital sector. Together with local business community groups, the Foundation commissioned AlphaBeta to size the value of the digital trade opportunity (both for exports and the domestic economy) and to assess risks for eight economies in the Asia-Pacific – Australia, China, India, Indonesia, Japan, Malaysia, Philippines and Vietnam.
Read more information on the Indonesia report and other digital trade reports.
© The Hinrich Foundation. See our website Terms and conditions for our copyright and reprint policy. All statements of fact and the views, conclusions and recommendations expressed in this publication are the sole responsibility of the author(s).