Hinrich Foundation hosts 'Trade 101' workshop in Vietnam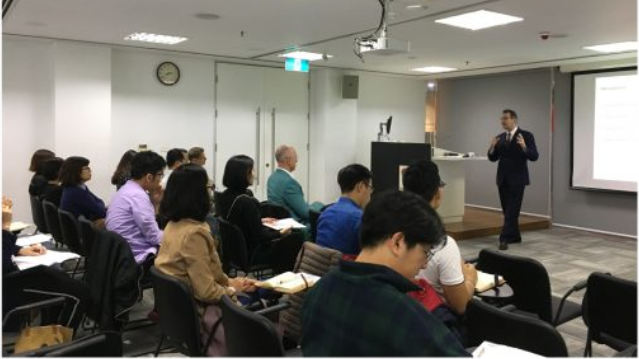 ---
Published 25 November 2018
Hinrich Foundation Research Fellow Stephen Olson conducted a workshop on international trade for students, professionals and lecturers in Hanoi city of Vietnam.
The workshop was organized by Hinrich Foundation, in partnership with RMIT University at RMIT Hanoi Campus, Vietnam, on November 22, 2018.
The workshop titled 'Trade 101 – International Trade in a Snapshot' saw the participation of 25 students from different universities, including RMIT, Academy of Finance, Foreign Trade University and Banking University, as well as professionals and lecturers of RMIT.
Head of RMIT Hanoi Campus Philip Dowler kicked off the workshop with his opening remarks before handing over to Hinrich Foundation Research Fellow Stephen Olson for his presentation. Olson introduced the evolution of the trading system and the emergence of World Trade Organization to the attendees. He followed it up by explaining current trade issues and their implications as well as the opportunities and challenges that they presented for Vietnam.
The workshop provoked students into asking questions on international trade, ranging from the future of world trading system and impact of trade war on Vietnam, to technical barriers on international trade.
"Frankly, I did not know much about international trade before but now I am really interested. It is closely related to real life," said Choi Minjae, student of RMIT.
The workshop concluded with remarks from Hinrich Foundation Program Director Alexander J. Boome, who expressed gratitude to the attendees and RMIT University.
"Thanks a lot Steve, the workshop was really an eye-opener for me," said Duy Tran, student of Foreign Trade University.
© The Hinrich Foundation. See our website Terms and conditions for our copyright and reprint policy. All statements of fact and the views, conclusions and recommendations expressed in this publication are the sole responsibility of the author(s).