Hinrich Foundation hosts discussion on evolution of US-China trade over 200 years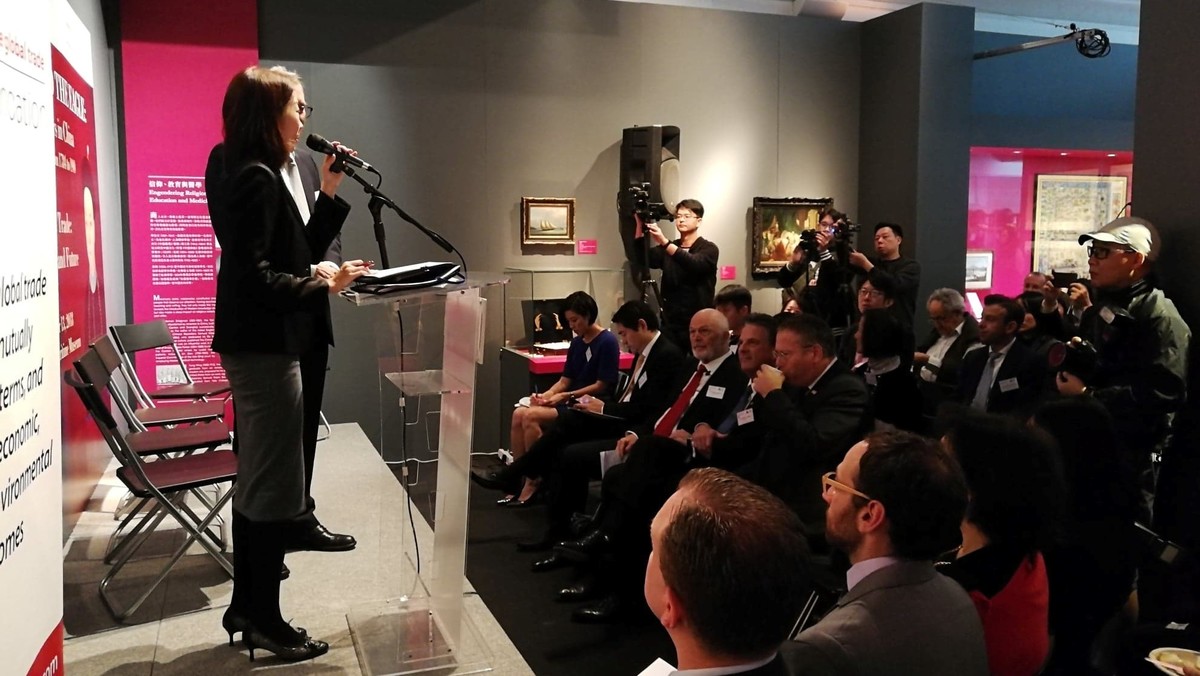 ---
Published 20 December 2018
The Hinrich Foundation was pleased to support the launch of a new exhibition titled "The Dragon and the Eagle: American Traders in China" at the Hong Kong Maritime Museum on December 13, 2018.
The exhibition aims to showcase how trade between China and the United States has evolved over the past 200 years and benefited both these communities.
The  formal opening of the exhibition was preceded by a panel discussion where prominent speakers gathered to dissect the importance of trade relations between China, the United States and Hong Kong, and the future trends in global trade.
In his opening remarks, Hinrich Foundation Chairman Merle A. Hinrich spoke on the relationship between China and the US over the years. According to Hinrich, the bilateral trade relationship between China and the U.S. has greatly benefited the U.S. and contributed substantially to the development of China and Hong Kong over centuries. This relationship is now extremely important to both countries, and for the world, since it has grown exponentially in scale: the total value of imports and exports increased from US $7.7 billion in 1985, to an astonishing US $635 billion in 2017.
Sino-American trade can continue to offer economic growth and positive cultural exchange to those on both sides of the Pacific. However, for this to happen, trade will have to be conducted according to mutually acceptable terms, redefined or renegotiated for more balanced economic, social and environmental outcomes, Hinrich said.
Kurt W. Tong, US Consul General of Hong Kong and Macau, and Dr. Henry Huiyao Wang, the Founder and President of the Center for China and Globalization (CCG), also made introductory remarks. Later, Dr. Wang was joined by other experts to discuss the US-China trade and Hong Kong's role in shaping the relationship between the two countries, current trade issues and the future of international trade. The panel discussion was moderated by Yvonne Man, Anchor at Bloomberg LP.The speakers included:
Libby Lai-Pik Chan, Exhibition Curator and Assistant Director (Curatorial and Collections), Hong Kong Maritime Museum
Peter J. Levesque, CEO and Group Managing Director, Modern Terminals Limited
Dr. Henry Huiyao Wang, Founder and President, Center for China and Globalization
Stephen Olson, Research Fellow, Hinrich Foundation
In his remarks, Hinrich Foundation Research Fellow Stephen Olson outlined the mutually beneficial aspects of the US-China trade and investment relationship, while acknowledging that there were legitimate grievances and problems between the countries that had to be resolved. Olson also touched base on reforming the World Trade Organization and the ceasefire agreement reached between China and the US.
"The 90 day negotiating period is an extremely short period of time to make meaningful progress on complicated issues such as intellectual property, technology transfers, cyber theft, and non-tariff barriers," Olson said.
© The Hinrich Foundation. See our website Terms and conditions for our copyright and reprint policy. All statements of fact and the views, conclusions and recommendations expressed in this publication are the sole responsibility of the author(s).
---