Hinrich Foundation holds Trade Negotiation Simulation in UP Cebu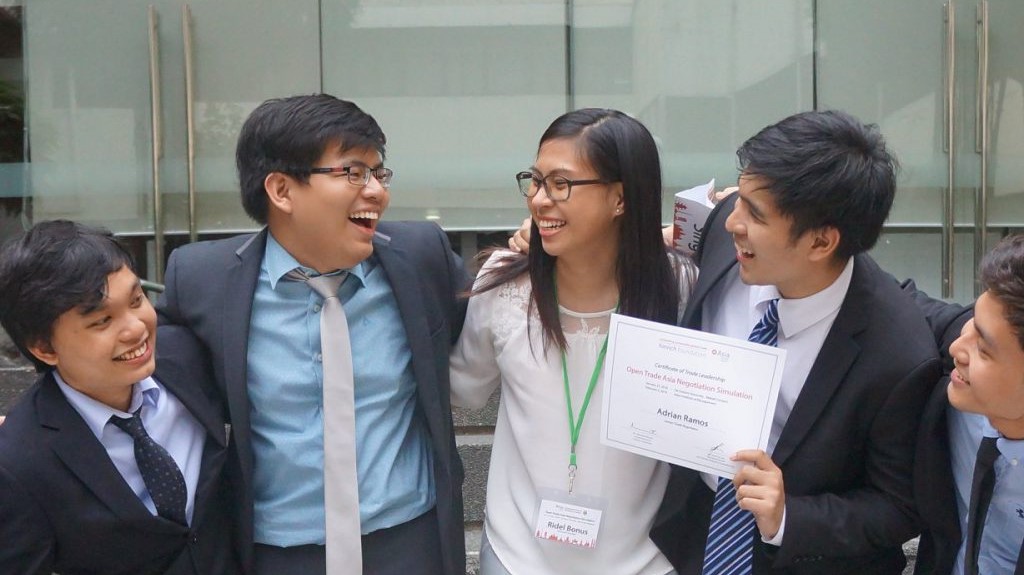 ---
Published 21 November 2018
The Hinrich Foundation, in partnership with University of the Philippines (UP) Cebu, hosted the 6th Hinrich Trade Negotiation Simulation (HTNS) event in Cebu City, Philippines. Thirty students from five universities attended the event held from October 27 to 28, 2018, at the UP Cebu Professional Schools campus.
The foundation's HTNS program is designed to encourage students to learn and understand the challenges and opportunities in the international trade arena, while developing their negotiating skills as future potential trade negotiators. The high-level discussions and debates simulated by the program on real-world trade issues help students understand the effects and benefits of global trade.
The event started with opening remarks from Hinrich Foundation Program Director Alexander Boome and University of the Philippines Cebu Chancellor Atty. Liza Corro. This was followed by an insightful keynote address of Minerva Yap, Department of Trade and Industry – Region 7's industry development division chief, who emphasized the critical importance of trade in goods and services to the Philippines and beyond.
Following this, Hinrich Foundation Research Fellow Stephen Olson explained the trade negotiation simulation process to the delegates and provided key negotiation strategies. Maria Esperanza Alconcel, Deputy Director for Free Trade Agreements and International Relations of the Singapore Business Federation, also provided useful negotiating tips she gained from her experience as a former trade negotiator for the Philippines.
Students, playing the role of senior trade negotiators, were divided into teams representing the countries of Australia, China, India, Japan, the Philippines and the US. They focused on formulating and negotiating their position on timely trade negotiation topics in the Asia-Pacific region including health care services, digital economy, agricultural subsidies and nontariff measures on food products. Trade experts provided students insight and guidance on negotiation strategies through the event.
On the second day, students entered the final negotiations. They drafted a joint communique containing all the details hammered out after debating issues and aligning their trade priorities to achieve a consensus on all four issues. The event ended with final remarks and awarding of certificates to all delegates.
© The Hinrich Foundation. See our website Terms and conditions for our copyright and reprint policy. All statements of fact and the views, conclusions and recommendations expressed in this publication are the sole responsibility of the author(s).