Hinrich Foundation, AIMA launches India Digital Trade report in New Delhi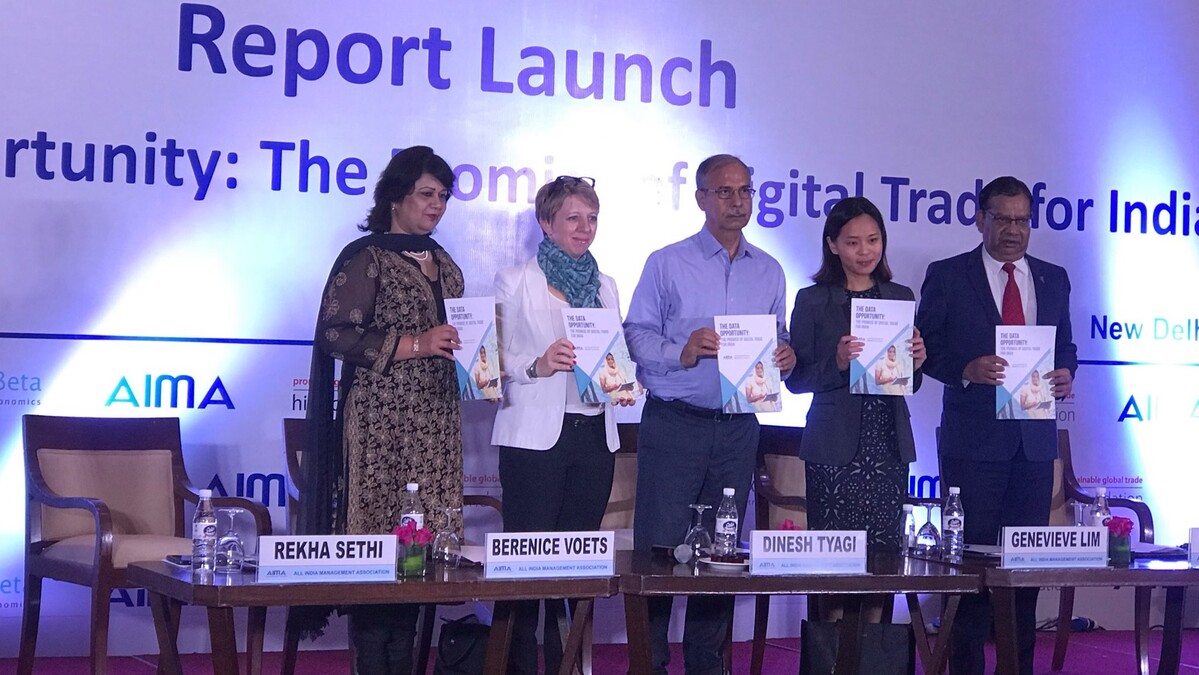 ---
Published 29 July 2019
The latest report is the seventh in the series of country reports on digital trade in Asia-Pacific.
The report measures the current contribution and potential future impacts of digital trade to the Indian economy. It also formulates specific policy recommendations for capturing the digital trade opportunity and for managing potential risks.
The event commenced with the lighting of the ceremonial lamp by AIMA Director General, Rekha Sethi, Hinrich Foundation Director of Public Affairs and Policy, Berenice Voets, AlphaBeta Associate, Genevieve Lim, and Director of AIMA, Raj Agarwal. Lighting of Lamp is an Indian tradition for starting an auspicious event and the flame symbolizes wisdom and knowledge.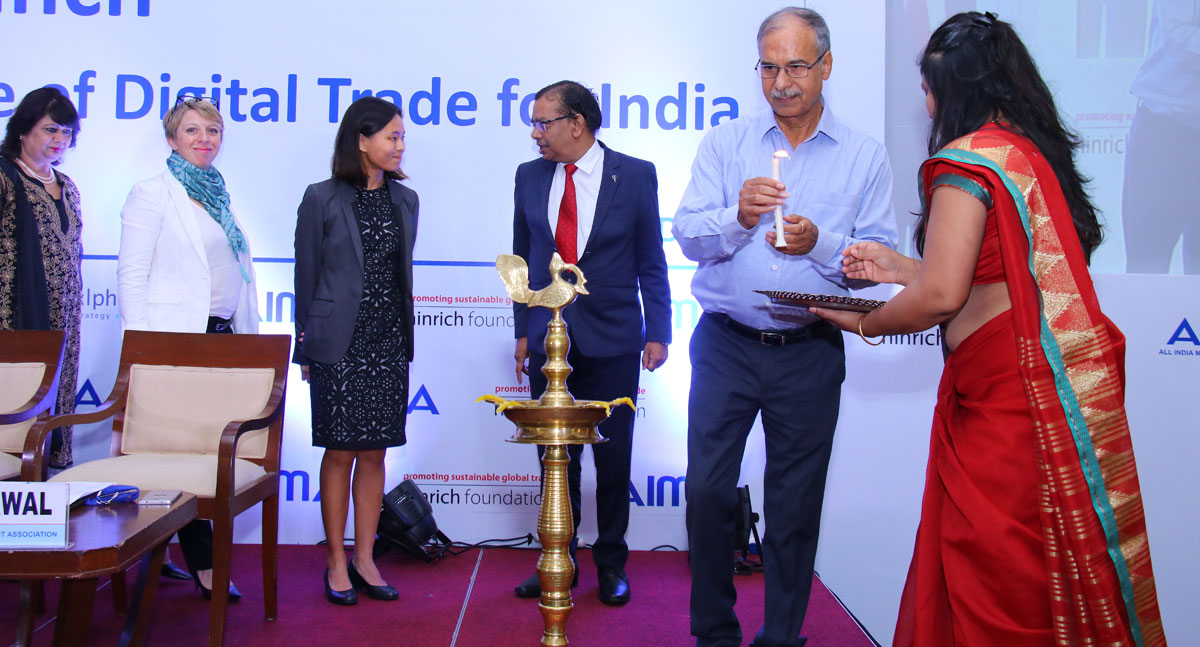 Rekha Sethi delivered the welcome address to over 150 attendees, comprising industry stakeholders, policymakers, government of India officials, students and media. Sethi's address was followed by opening remarks from Berenice Voets, who emphasized the importance of trade in contributing to India's growth, development and poverty alleviation, as well as the potential of digital trade to boost the growth in the domestic sectors.
Digital trade holds important promises for growth in Asia, and with right policies it will enhance the participation of Small and Medium Enterprises in trade and create more inclusive growth, Voets said.
Following the remark, chief guest Dinesh Tyagi, Chief Executive Officer of CSC e-Governance Services India Limited, gave his keynote address. He spoke on various initiatives undertaken by the government in promoting digitization in India, especially in the agriculture and insurance sectors.
Shortly after the keynote address, Genevieve Lim presented the key findings from the report. "Today, digital trade has already created huge positive impact for India's domestic economy. This contribution is expected to grow 14-fold to reach Rs. 3,331 thousand crores by 2030," Lim said.
However, there are concerns such as protecting the privacy of citizens, localizing data for national security, domestic firms losing out to large multinationals and protecting the local tax base that need to be addressed for reaping the digital trade opportunity, she added.
Thereafter, Director of Centre for Management Education, AIMA, Raj Agarwal, thanked all the attendees and Hinrich Foundation for their work on the digital trade report before hosting a tea break.
The event resumed after the break with the first panel session, titled "Securing Digital Trade – Privacy and Cyber Security". The panel discussion was chaired by Vipin Tyagi, Executive Director at C-Dot and the panelists included:
Manish Sehgal – Partner, Deloitte Touche Tohmatsu India LLP
Deepak Pareek – Founder, MyCrop
Aaron Kamath – Lawyer, Nishith Desai Associates
In the opening statement by panelist, Sehgal spoke on free flow of cross border data." If you don't allow free flow of data, then we are isolating from the world. The value of data is important and it needs to be intact. The flow of data needs to be mutually beneficial between two countries," he said.
He was followed by Pareek, who emphasized the importance of data. He also demonstrated to the attendees how a single photograph can both be a data bit as well as a privacy concern. "Data in not new oil but new soil, allowing infinite ideas to germinate into value to businesses and society," he explained.
To provide a legal perspective on access to data, Kamath said that regulation and enforcement on accessing data by government is low. Domestic firms generally use foreign firms cloud and servers to store data, which does not provide access to government.
The session ended with a lively Q&A session. It saw industry stakeholders and students ask questions about the importance and threat of data.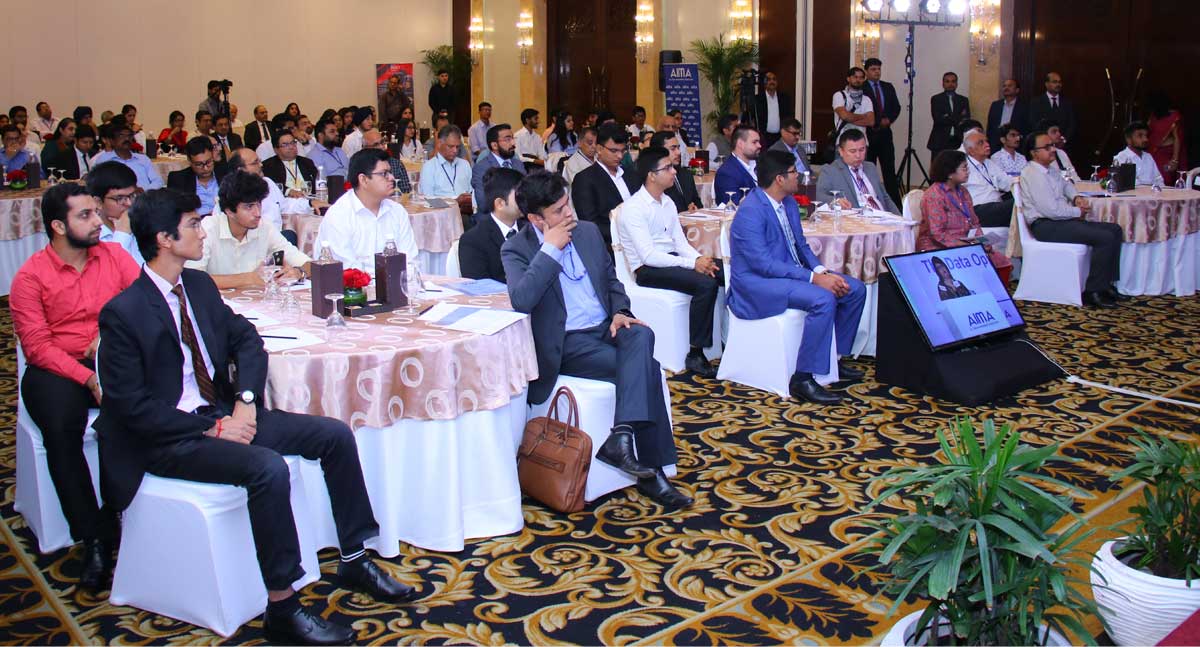 The second panel session, titled "Digitally Informed Trade Policy – Need of the Hour", commenced with J S Juneja, Chairman Global Project and Services (P) Ltd., as the chairperson. The panelist included:
T S Vishwanath – Principal Adviser, APJ-SLF Law Offices
B Bhattacharya – Former Dean, Indian Institute of Foreign Trade
Shruti Chandra – Assistant Vice President, Invest India
Berenice Voets – Director of Public Affairs and Policy, Hinrich Foundation
B Bhattacharya led the panel discussion with his opening statement focusing on the role of big corporates in influencing government policies. Government's policy on cross-border data flow is generally influenced by big corporates. But cross border data flow needs to be seamless for a win-win situation between big and small companies, he said. In addition, he also said digital trade can become an equalizer of growth in India.
Taking cue of the recent developments in the trade arena globally, Vishwanath said that there needs to be a clear distinction between security concern and trade concern with respect to cross border data flow and therefore, there is a requirement for a trade policy in a digitally-enabled society.
In her opening statement, Chandra emphasized on government's role in promoting digitization which has helped bring in foreign direct investment due to access to advanced infrastructure in the country.
Following Chandra's remarks, Voets provided insights on the impact of digital trade on domestic sectors, especially on Micro-Small and Medium Enterprises. Digital trade has enabled MSME to play an important role and has helped their revenues to grow by 60 percent due to improved market access, reduced financing/insurance costs and lower operating costs, she said.
The second panel discussion ended with a Q&A session before a vote of thanks was proposed by Berenice Voets.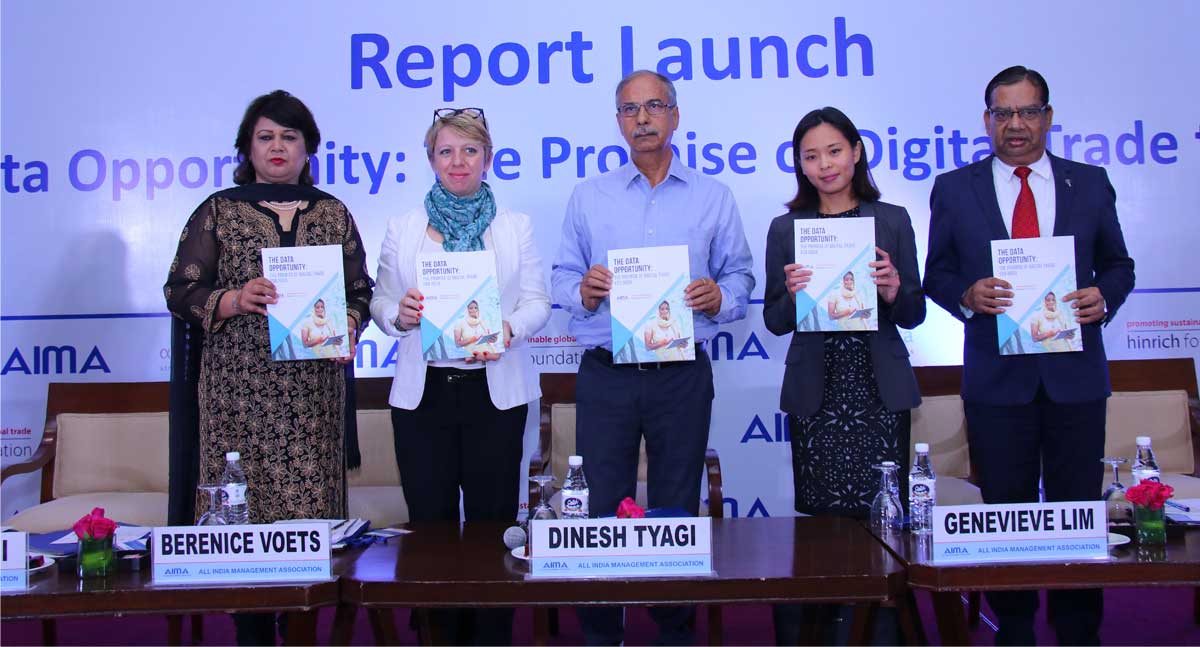 At the Hinrich Foundation, we consider open digital trade to be a growth opportunity for countries as well as an enabler of major productivity improvements for sectors beyond the digital sector. The Hinrich Foundation commissioned this research project to fill an information gap about the value and impacts of digital trade on growth in eight economies in the Asia-Pacific – Australia, China, India, Indonesia, Japan, Malaysia, Philippines and Vietnam, Voets said.
Read more information on our digital trade research.
© The Hinrich Foundation. See our website Terms and conditions for our copyright and reprint policy. All statements of fact and the views, conclusions and recommendations expressed in this publication are the sole responsibility of the author(s).