'China, Trade and Power' book unveiled at AmCham Shanghai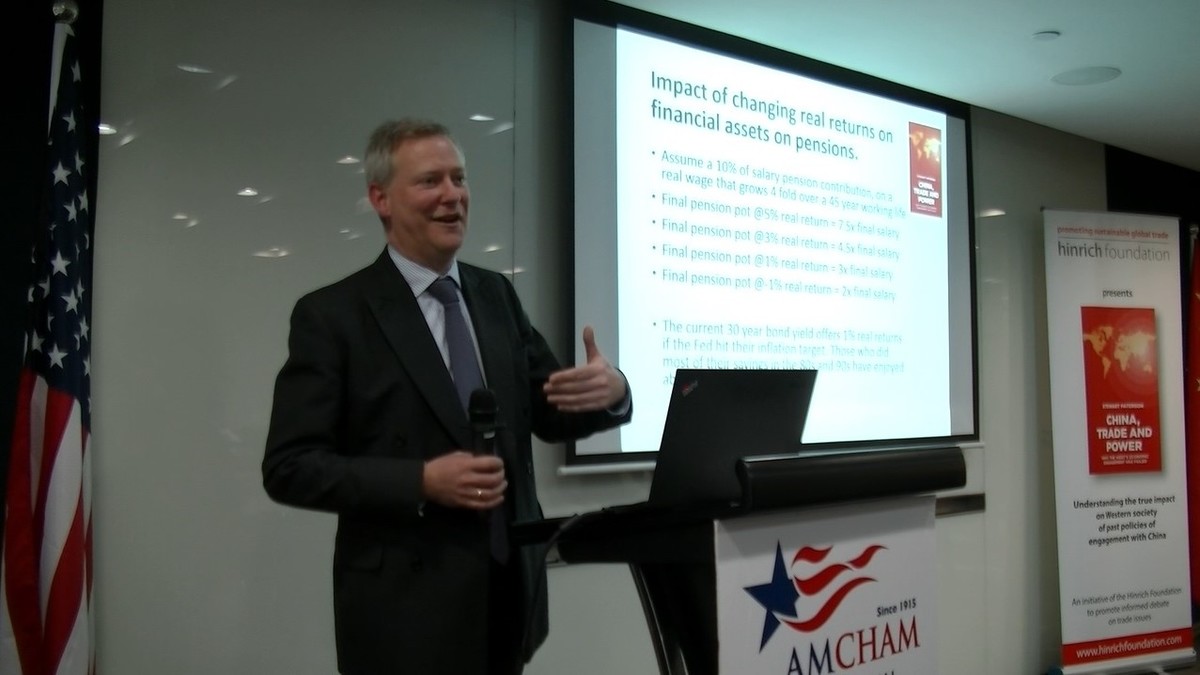 ---
Published 27 November 2018
Hinrich Foundation sponsored book "China, Trade and Power: Why the West's Economic Engagement Has Failed", written by Stewart Paterson was launched at an author series event organized by the American Chamber of Commerce (AmCham) in Shanghai on November 27, 2018.
The Foundation supported the book to promote a reasoned and an informed debate on the economic relationship between the West and China.
Over 60 guests from different segments of society, including business leaders, government agencies, academics, among others, attended the event. The President of AmCham Shanghai Ken Jarrett made the opening remarks and the Hinrich Foundation Director of Communications Berenice Voets introduced the subject to the audience.
Author of the book Stewart Paterson gave a detailed presentation on the book. He engaged the audience with the unexpected outcome of a Western policy of engagement with China, which led to the country's accession to the WTO in 2001 without critical economic reforms, such as a floating exchange rate and open capital account.
Paterson explained how the supply-side shock created by China's increasing and deflationary exports, coupled with the inflation-targeting response of Western central banks, led to a fall in real incomes for the many in the West and a rise in asset prices for the few, raising questions about the effectiveness of Western liberal economic models.
"By flooding the world with cheap labour, the pricing power of labour in the West was diminished. MNCs captured the benefits of this through outsourcing. The 5 million manufacturing jobs lost saved companies at least $100 billion per year in wages alone. Longest decline in real median incomes since the war. In the UK since Victorian times," Paterson noted in his presentation.
He explained that the need for a deep market-oriented economic reform in China was avoided by the country's export success which helped raise the living standards and cemented the position of the Communist Party of China domestically. The internal success led to Beijing's economic model being held as an alternative to Western liberalism.
Read more information on the book "China, Trade and Power: Why the West's Economic Engagement Has Failed".
© The Hinrich Foundation. See our website Terms and conditions for our copyright and reprint policy. All statements of fact and the views, conclusions and recommendations expressed in this publication are the sole responsibility of the author(s).