US-China trade
Reading the tea leaves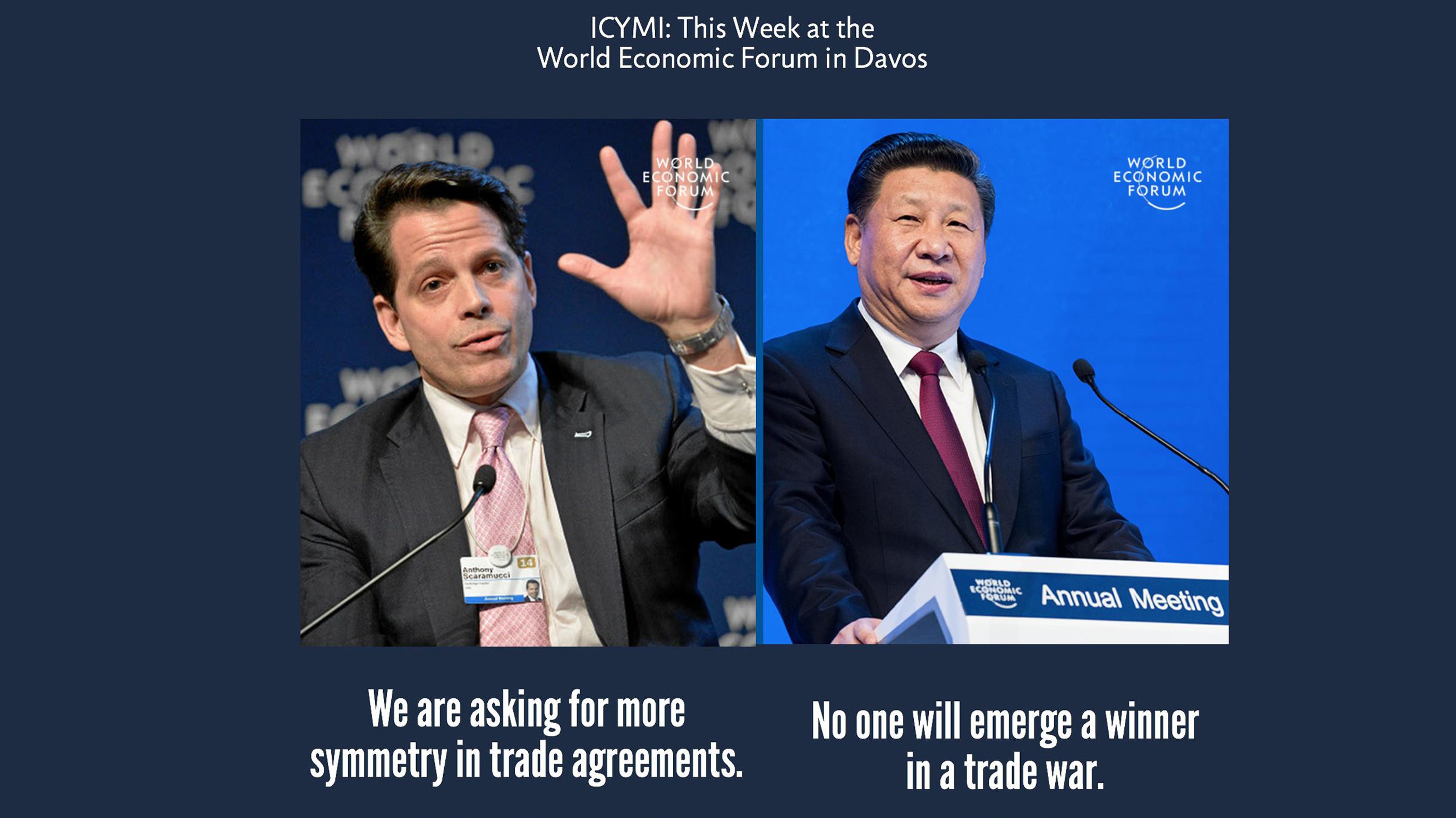 ---
Published 19 January 2017
If you're like most Americans, you are more familiar with Davos Seaworth from Game of Thrones than with the little ski town of Davos, Switzerland. But this week in Switzerland, China's president and a representative from Mr. Trump's Administration both said they'd like to avoid a trade war.
Davos, Switzerland not Davos Seaworth
Google "Davos" and you get some economic news, but you also get a detailed dossier on Davos Seaworth, a main character in the fictional television series, Game of Thrones.
If you're like most Americans, you are more familiar with Davos Seaworth than the little ski town of Davos, Switzerland. And you either haven't heard of, or are not paying much attention to, the World Economic Forum taking place in Davos, Switzerland this week. In fact, the exclusive convening at Davos featuring heads of state, global business executives, and movie stars with causes who flew in on some 1,700 private jets seems like just the sort of thing voters who supported Mr. Trump would flatly reject as not representing their interests. (Nonetheless, if you are curious as to wins the golden tickets, the Guardian explains and Felix Salmon for Reuters provides an amusing guide to the badges worn by attendees in this infographic.)
The Historic Appearance by Chinese Leadership
Since President-elect Trump spent much of his campaign complaining that China engages in unfair trade practices, even going so far as to threaten a 45 percent tax on products we buy from Chinese sellers, observers have grown concerned about an impending trade war between the United States and China. Expert China-watchers predict that China will step into the leadership role vacated by Mr. Trump through his rejection of TPP. Indeed, President Xi's appearance and hour-long speech during the opening session of the World Economic Forum in Davos seemed to affirm this view.
But most of the speech was calibrated to what a Davos audience wanted to hear, with soaring rhetoric about embracing globalization while addressing the unmet expectations created by uneven development, and a few well placed Chinese proverbs to underscore the point. That said, President Xi sent some important signals when he urged a rejection of protectionism and said China does not want a trade war with the United States. He observed the trade rules have not kept pace with the way global commerce is conducted, and importantly, he put a marker down that China will continue to promote its own development in ways that suit China's conditions.
More Symmetry in Trade Agreements
Anthony Scaramucci represented the incoming Trump Administration. He was conversational and direct in his twenty-five minute appearance, and he made no apologies for the way Mr. Trump communicates on trade and economic policy, though he is more measured and demonstrated a commanding grasp of historical political economy as he explained the basis and context for Mr. Trump's economic goals. Mr. Scaramucci made clear that this Administration does not want a trade war and respects China's leadership.
The United States, "put together the footprint and foundation of global trade agreements," willingly entering into "asymmetric" trade deals since 1945, which Mr. Scaramucci says has worked "phenomenally well" to promote global prosperity and avoid global conflict. But Americans are concerned the working class has become worse off and should not be allowed to become the working poor, so the Trump Administration will be asking for more symmetry in its trade agreements — and a more prosperous United States will drive growth in the global economy.
No One Wants a Trade War
President Xi has been reconsolidating power in Beijing, wresting economic decision making back from the provinces as China's economic growth faces significant headwinds. And he has not always agreed with recommendations for economic reform promoted by his top economic advisor, Liu He. Mr. Liu has been moderating his stance and has said in the past that China "cannot shoulder excessive responsibility" for reducing its trade deficits with other countries.
What Chinese leadership may be concerned about most is having to respond to an aggressive Trump trade policy if American demands or measures spark a surge of economic nationalism in China. Populism in China could have the opposite of the effect Trump desires, limiting the ability of China's leaders to pursue the kind of economic reforms sought by the United States.
We will all continue to read the tea leaves until the Trump Administration is fully installed and lets us in on their plans. For now, at least in Davos, both the United States and China said they want to avoid a trade war.
Feature image credit: World Economic Forum, weforum.org
© The Hinrich Foundation. See our website Terms and Conditions for our copyright and reprint policy. All statements of fact and the views, conclusions and recommendations expressed in this publication are the sole responsibility of the author(s).
---