Digital trade
Geopolitical rivalries play out in Africa's digital transformation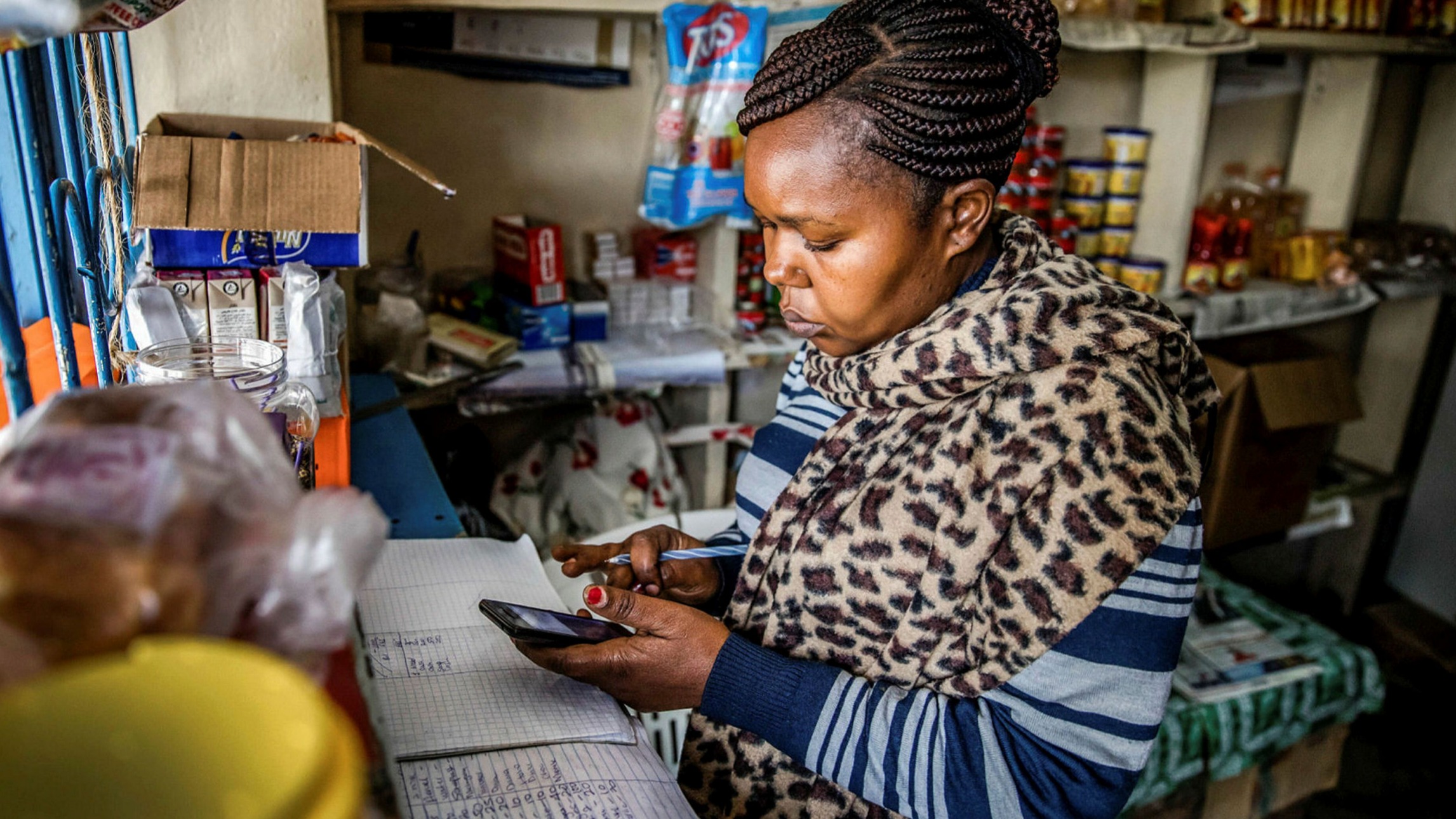 ---
Published 25 January 2022
Africa's potential for digital trade has been overlooked for years. Instead, its 1.2 billion people are perceived as a source of commodities and an export market for finished goods. This is now rapidly changing with geopolitics becoming more prominent in industry development.
In February 2020, the African Union Assembly mandated an approach for incorporating e-commerce into the African Continental Free Trade Area, which has included e- commerce in its Phase 2 of negotiations on services trade.[1] This reflects the African Union's strategy for digital transformation which promotes intra-African integration in digital trade as a key principle.
Digital transformation is taking place for several reasons. First, demand for digital trade is growing. According to the Ericsson Mobility Report, the continent has the fastest growing mobile market in the world.[2] E-commerce is predominantly conducted by smart phones.[3]
Second, investments in connectivity infrastructure that enables e-commerce are stepping up. Fibre cables now being laid and coming into service by the year 2024 promise even more progress. The new cable network will add approximately 20 times more capacity than the last cables built to serve the region, including north-south and east-west cables to connect the 15 landlocked countries.[4] A consortium – composed of China Mobile, MTN GlobalConnect, Orange, STC, Telecom Egypt, Vodafone, Facebook, and WIOCC – has announced a partnership to build a subsea cable to improve connectivity between 23 countries in Africa, the Middle East, and Europe. The 37,000-kilometre cable, called '2Africa', is said to be the first subsea cable system to connect East and West Africa across a single system.[5]
And in November 2020, a significant milestone was reached when 3G and 4G connections exceeded 2G connections for the first time, paving the way for digital payments and digital trade to grow.
Third, price points now better reflect local incomes. The affordability gap is narrowing in sub-Saharan Africa. The average cost of a device decreased from 57% of monthly income in 2015 to 30% in 2019.[6] The declining costs are partly due to the launch of 3G/4G smart-feature phones at significantly lower prices – US$20 to US$25 – in several African countries.[7]
Fourth, entrepreneurialism is thriving. According the Borgen Project, as of January 2020, Africa was home to some 264 e-commerce start-ups in 23 countries.[8] Today, Nigeria, Kenya and South Africa have the most start-ups and account for about half of all e-commerce transactions in Africa. The biggest is Jumia Technologies AG, a firm headquartered in Berlin and listed on the New York Stock Exchange. With services available in 14 countries across Africa, Jumia comprises e-commerce marketplaces, logistics, and its own payment wallet/platform called Jumia Pay.[9]
If the model resembles China's WeChat or JD.com, that is not a coincidence. Although fintech giants Kenya's M-Pesa and Ghana's MTM Mobile Money are providing great examples, digital trade in Africa is, in many ways, following China's model of an integrated platform providing goods, delivery, and payments.
Alibaba showed the way when it created the Electronic World Trade Platform in Rwanda in 2018 and in Ethiopia in 2019, with promises of digital trade finance and training support.[10]
Indeed, China plays a key role in Africa's digital development. China has often stated its commitment to assist in Africa's growth, most recently reiterated in 2021 at the eighth Ministerial Conference of the Forum on China-Africa Cooperation (FOCAC) in Senegal.[11]
The rapid growth in mobile access has relied on hardware sourced from Europe and East Asia, including Korea and Japan. Chinese companies have been very active in selling telecommunications equipment across Africa, including cellular base stations, switches, and handsets. Huawei, for example, has supplied 70% of 4G base stations operating on the continent.[12]
The price of the equipment and the financing have provided the edge for the system-wide build-out using Chinese equipment. Market observers say state banks offer financing to exporters, which is China's way of subsidising the vendors. These savings are then passed to buyers through lower prices in the recipient country. It is difficult to identify exactly how much credit China's export banks have provided for hardware suppliers such as Huawei and ZTE. According to a 2013 report from China's Ministry of Finance, financing from external sources accounted for 7.6% of Huawei's investment capital and 24.8% of ZTE's.[13] Experts have argued that what makes China's aid to Africa different from traditional overseas development assistance is the involvement of state-owned enterprises.[14]
State financing support towards large-scale buildouts has not been lost on US, Japanese, or European companies. Infrastructure deals became imbued with geopolitics. In May 2021, a US-backed consortium won a license in Ethiopia with a bid of US$850 million, considerably higher than that of the competitors.[15] The key differentiator: The bid came with a finance package from US aid agency the International Development Finance Corp (formerly known as the Overseas Private Investment Corporation) and the CDC Group, their counterpart from the UK, which outlines specific conditions on its loans, including human rights.[16] Although the terms of the loan are not public, there may be additional conditions attached, such as the country source of the equipment used.[17] The lower priced bids included competitors that are long time partners of Chinese manufacturers who have financial backing from China's state-owned Silk Road Fund.[18]
Deals like these are not atypical. In July 2021, Nokia was the major equipment vendor for Africel, the newest mobile network to launch in Angola.[19] The deal will include the deployment by Nokia of its proprietary AirScale Single Radio Access Network (S-RAN) across some 700 sites.[20] This arrangement follows a US$100 million loan facility which the International Development Finance Corporation agreed to in May 2019 with Africel, with the loan going to the buyer rather than the vendor – a reversal of previous practices.[21]
Again, precise terms are not public, but the choice of more expensive and proprietary Nokia equipment sends a message that development finance has become entangled in the murky politics of the US-China trade conflict. In particular, the locking out of Huawei in building out 5G networks by western countries will increase the importance of emerging markets within Africa.
Standards setting is another area of competition facing similar developments. Studies have documented China's growing interest in the role that standards and standard setting bodies can play.[22] A country that sets or influences standards for new technology can greatly influence the adoption of those standards. This is particularly important in mobile telecoms and the radio access network (RAN), which connects individual wireless devices to other parts of a network through radio connections. The interfaces are standardized, and the equipment needed – base stations, radio amplifiers, management systems – are closed so they do not completely abide by open standards.
RAN equipment is vendor-proprietary, and the global market is dominated by just a handful of manufacturers: Huawei, Nokia, Ericsson, and, to a lesser extent Samsung and ZTE. American vendors long ago sold their technology to the Europeans in this area. In the Ethiopian contract, the two prime bidders each supported different hardware competitors Nokia and Huawei, but it was the total package that won the deal.[23] To further complicate matters, a new standard to support 5G – Open RAN – is now being adopted globally.[24]
Africa is a new arena for trade rivalry between state capitalism, which entails assistance to exporters, and state-supported capitalism, whereby end customers are the focus of assistance. The continent is also a new arena for competition between proprietary and open technology standards. The degree to which these differing models succeed will have ramifications in other emerging markets such as Latin America and South Asia. As 5G rolls out in the rest of Asia, this rivalry will likely intensify in coming years.
[1] - https://www.techerati.com/the-stack-archive/directory/a-digital-free-trade-agreement-for-africa/
[2] - https://www.ericsson.com/4acd7e/assets/local/mobility-report/documents/2019/emr-november-2019.pdf
[3] - Ibid.
[4] - https://cloud.google.com/blog/products/infrastructure/introducing-equiano-a-subsea-cable-from-portugal-to-south-africa
[5] - https://www.zdnet.com/article/facebook-to-build-a-subsea-cable-to-improve-connectivity-in-africa/
[6] - https://www.gsma.com/mobilefordevelopment/blog/mobile-connectivity-in-sub-saharan-africa-4g-and-3g-connections-overtake-2g-for-the-first-time/
[7] - https://www.biztechafrica.com/article/vodacom-launches-smart-kitochi-tanzanias-first-sma/15158/; https://unctad.org/topic/ecommerce-and-digital-economy/etrade-for-all
[8] - https://borgenproject.org/e-commerce-in-africa-emerging-markets/
[9] - https://group.jumia.com; https://pay.weixin.qq.com/index.php/public/wechatpay_en; https://global.jd.com
[10] - https://alibabagroup.com/en/news/press_pdf/p181031.pdf; https://alibabagroup.com/en/news/press_pdf/p191125.pdf
[11] - http://focac.org.cn/focacdakar/eng/
[12] - https://asia.nikkei.com/Spotlight/Huawei-crackdown/Huawei-s-deep-roots-put-Africa-beyond-reach-of-US-crackdown
[13] - http://fec.mofcom.gov.cn/article/tzhzcj/tzhz/
[14] - https://ijoc.org/index.php/ijoc/article/view/9973/3006
[15] - US wields a new weapon against Huawei – low-cost credit. https://www.dfc.gov/our-work/technology [16] - https://www.cdcgroup.com/en/about/
[17] - https://telecoms.com/509910/vodafone-has-minimal-involvement-in-ethiopian-consortium/
[18] - https://crsreports.congress.gov/product/pdf/IF/IF11735
[19] - https://connect-world.com/nokia-and-africell-to-deploy-a-brand-new-5g-ready-network-in-angola/
[20] - https://www.nokia.com/networks/mobile-networks/airscale-radio-access/single-ran-advanced/
[21] - https://www.africell.com/en/home
[22] - https://www.hinrichfoundation.com/research/article/tech/china-quest-to-shape-the-world-through-standards-setting/
[23] - https://www.cdcgroup.com/en/about/
[24] - https://www.mobileworldlive.com/wp-content/uploads/2021/12/MWL-Keysight-whitepaper-Open-RAN-–-The-fast-track-to-5G.pdf
© The Hinrich Foundation. See our website Terms and conditions for our copyright and reprint policy. All statements of fact and the views, conclusions and recommendations expressed in this publication are the sole responsibility of the author(s).
---