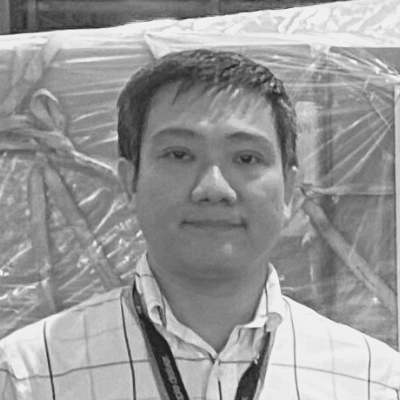 William Lim
CITIZENSHIP
Vietnam
HINRICH SCHOLARSHIP
RMIT University
Ho Chi Minh City, Vietnam
Master of Global Trade, Class of 2022
Co-sponsor: AIT Worldwide Logistics
CURRENT EMPLOYMENT
General Manager
AIT Worldwide Logistics, Ho Chi Minh City, Vietnam
"By joining the Master of Global Trade program, I can align my experience with the up-to-date global realities and practices so I can contribute better to my company and community."
Scholar background
William Lim The Thuan has 20 years of experience in the logistic field and is General Manager at AIT Worldwide Logistics. Founded in 1979, AIT is a global transportation provider with four decades of experience and a logistics network with over 85 offices worldwide. William set up the AIT offices in Hanoi and Ho Chi Minh City, recruiting and training teams, and ensuring the company's compliance with local laws and regulations, as well as foreign investment policies.
Aside from managing all aspects of the business operations and acting as the company's legal representative in Vietnam, William also coordinates with regional offices in Hong Kong, the United Kingdom and AIT headquarter in Chicago.
Before joining AIT, he worked as a General Manager at Norman Global Logistics UK. Previously, he was Vice General Manager at Scan Global Logistics after also working as a Manager for Airfreight and Special Services. He also held manager positions at OV Container Line and ABX Logistics.
He earned his bachelor's degree in Foreign Trade Economics from Foreign Trade University in Vietnam in 2001.
Personal statement
When I was in high school, I aspired to be an international trader, travelling around the world, meeting different people and sharing with them the value of trade and life. After joining and setting up AIT in Vietnam for the last five years, I am proud to be the first team member of AIT Worldwide to join the Master of Global Trade program of the RMIT University and Hinrich Foundation. 
"Develop talent to drive sustainable trade." This statement of the Hinrich Foundation expresses the purpose of the MGT program. The curriculum is up-to-date with the global realities and highly practical for working professionals.
By joining the program, I have the chance to study, meet and discuss deeply about global trade with policymakers, reputable lecturers, industry experts and my fellow scholars. The program can also help businesses like AIT to connect with various industries and global organizations, and identify the challenges and opportunities in the fast changing and unforecastable global economy. This will enable us to build a practical strategy to achieve stable development.
My goal is to do more than evaluate. I will encourage my teammates, friends and business partners to join the next Master of Global Trade so they can share their value and industrial practices. As a member of the Hinrich Foundation Alumni Association, I wish to contribute to the international trade community by sharing my knowledge, experience, network and trade habits in order to help create a more sustainable global trade system.