Upcoming Events
Where Great Powers Meet: America and China in Southeast Asia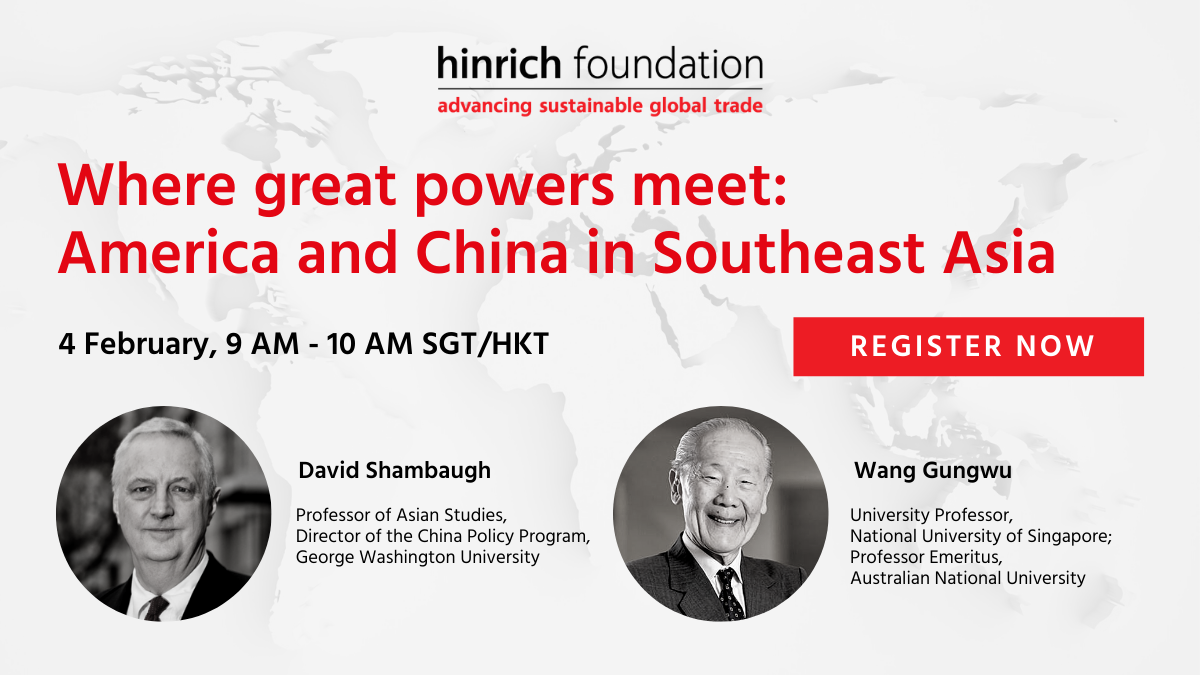 Event Details
04 February 2021 | 9 AM - 10 AM (SGT/HKT Time)
Join us as we invite Professor David Shambaugh to review his new book and discuss the implications of great power competition for Southeast Asia with Professor Wang Gungwu.
The Hinrich Foundation is delighted to host eminent scholars, Professor David Shambaugh and Professor Wang Gungwu, for this timely discussion on the key geopolitical forces shaping Southeast Asia. In Where Great Powers Meet: America and China in Southeast Asia, Professor Shambaugh examines how the United States and China are engaged in a broad-gauged and global competition for power. While this competition ranges across the entire world, it is centered in Asia.  
Professor Shambaugh focuses on the critical sub-region of Southeast Asia. The United States and China constantly vie for position and influence across this enormously significant area - and the outcome of this contest will do much to determine whether Asia leaves the American orbit after seven decades and falls into a new Chinese sphere of influence. Presently, both powers bring important assets to bear in their competition. The United States continues to possess a depth and breadth of security ties, soft power, and direct investment across the region that empirically outweigh China's. For its part, China has more diplomatic influence, much greater trade, and geographic proximity. In assessing the likelihood of a regional power transition, Professor Shambaugh examines how ASEAN (the Association of Southeast Asian Nations) and its member states maneuver and the degree to which they align with one or the other power. 
This session will be moderated by Dr Andrew Staples, Director of Research and Outreach, Hinrich Foundation.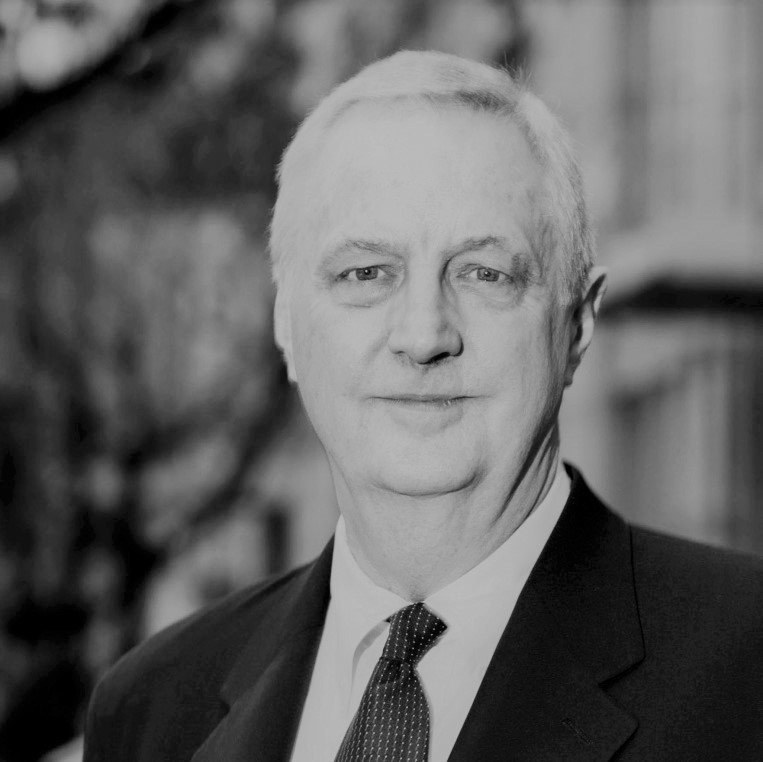 David Shambaugh
Professor of Asian Studies; Director of the China Policy Program, George Washington University
David Shambaugh is an internationally recognized authority and award-winning author on contemporary China and the international relations of Asia.
He currently is the Gaston Sigur Professor of Asian Studies, Political Science & International Affairs, and the founding Director of the China Policy Program in the Elliott School of International Affairs at George Washington University. He was also a formerly a Non-resident Senior Fellow in the Foreign Policy Studies Program at The Brookings Institution and Director of the Asia Program at the Woodrow Wilson International Center for Scholars. He has also worked in the U.S. Department of State and National Security Council, served on the Board of Directors of the National Committee on U.S.-China Relations, and is a life member of the Council on Foreign Relations. Before joining the GWU faculty Professor Shambaugh was Reader in Chinese Politics at the University of London's School of Oriental & African Studies (SOAS), where he also served as Editor of The China Quarterly. 
Professor Shambaugh has been selected for numerous awards and grants, including as a Fellow at the Woodrow Wilson Center, a Senior Scholar by the Phi Beta Kappa Society, a Senior Fulbright Scholar (at the Chinese Academy of Social Sciences), Distinguished Research Professor at the Shanghai Academy of Social Sciences, and Distinguished Visiting Professor at the S. Rajaratnam School of International Studies (RSIS) in Singapore, and other visiting appointments in Australia, China, Hong Kong, Italy, Japan, New Zealand, Singapore, and Russia. An active public intellectual and frequent commentator in the international media, he serves on numerous editorial boards, and has been a consultant to governments, research institutions, foundations, universities, corporations, banks, and investment funds. As an author, Professor Shambaugh has published more than 30 books, including most recently Where Great Powers Meet: America & China in Southeast Asia and China & the World (both 2020).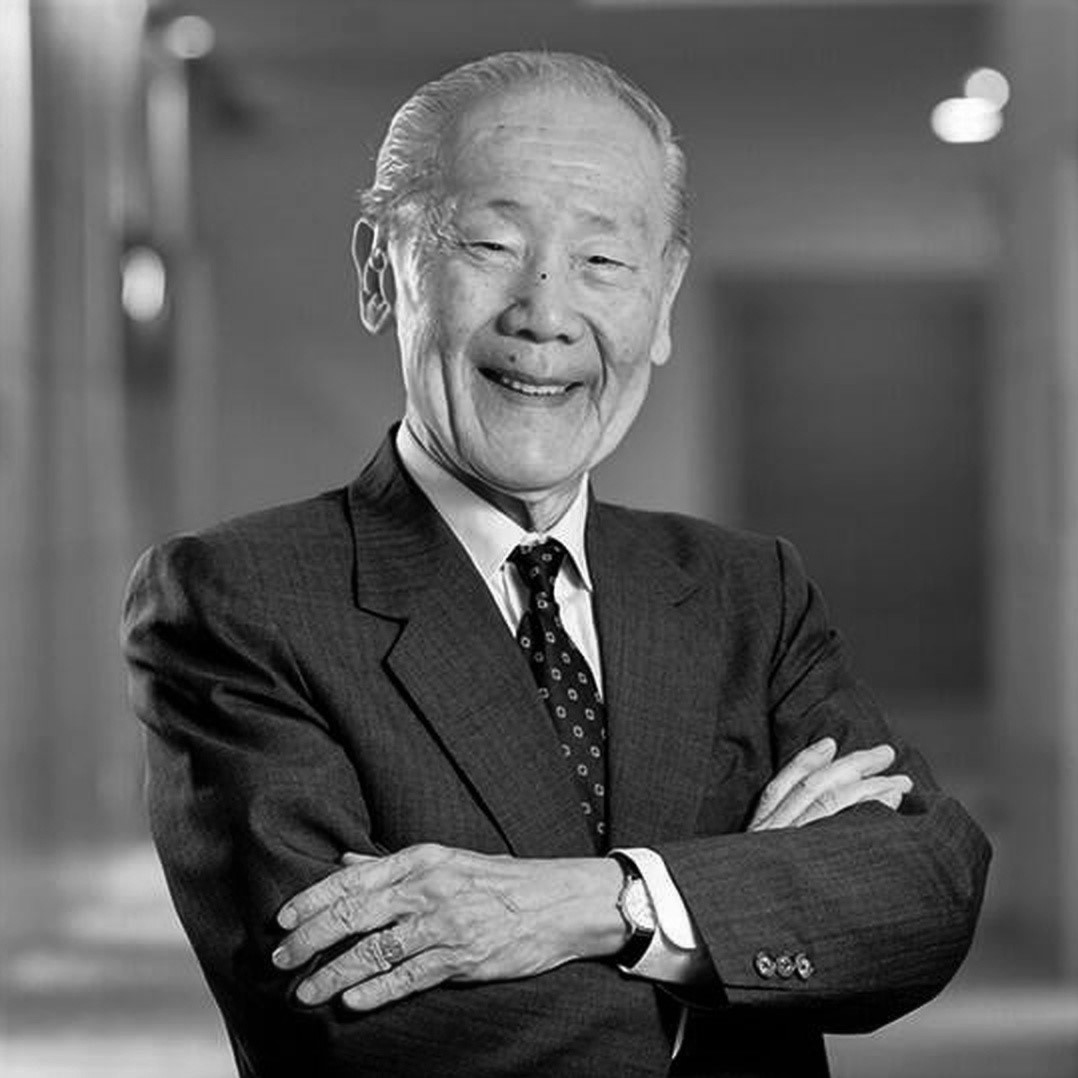 Wang Gungwu
Professor, National University of Singapore; Chairman of the Managing Board of the Lee Kuan Yew School of Public Policy
Professor Wang Gungwu is one of Asia's most important public intellectuals. He is best-known for his explorations of Chinese history in the long view, and for his writings on the Chinese diaspora. 
Professor Wang is a University Professor at the National University of Singapore and also Chairman of the Managing Board of the Lee Kuan Yew School of Public Policy. He was the Director (1997-2006) and Chairman (2006-19) of the East Asian Institute in Singapore. Professor Wang was a Distinguished Professorial Fellow at the ISEAS - Yusof Ishak Institute where he was chairman of the board of Trustees from 1 November 2002 to 31 October 2019. He is also a Professor Emeritus of the Australian National University and a Fellow of the Australian Academy of the Humanities, elected in 1970 and serving as President from 1980-1983. 
Professor Wang is a Commander of the British Empire (CBE); Fellow, and former President, of the Australian Academy of the Humanities; Foreign Honorary Member of the American Academy of Arts and Science; Member of Academia Sinica; Honorary Member of the Chinese Academy of Social Science. He was conferred the International Academic Prize, Fukuoka Asian Cultural Prizes. 
Professor Wang has published extensively and to great acclaim. His most recent book China Reconnects. Joining a Deep-rooted Past to a New World Order was published in 2019.