Hinrich Foundation presents STI findings at Asian Development Bank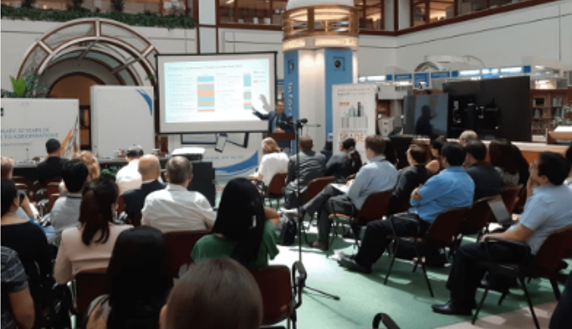 ---
Published 26 September 2018
Hinrich Foundation Research Fellow Stephen Olson presented the findings of the 2018 Sustainable Trade Index (STI) at the Asian Development Bank (ADB) in Manila on Tuesday, September 4th, 2018.
The event was hosted by Yasuyuki Sawada, Chief Economist at the ADB and included a presentation of the STI followed by a presentation of the ADB's Asia-Pacific Regional Cooperation and Integration Index. Stephen Olson, Yasuyuki Sawada as well as other ADB representatives including Cyn-Young Park, Director of the Regional Cooperation and Integration, Jayant Menon, Lead Economist and Jong Woo Kang, principal economist at the ADB then discussed the findings of each index and policy implications for countries in APAC.
The Hinrich Foundation would like to thank the Asian Development Bank for hosting this event and participating in a forward-thinking discussion. The foundation looks forward to continued collaboration and engagement with ADB.
© The Hinrich Foundation. See our website Terms and conditions for our copyright and reprint policy. All statements of fact and the views, conclusions and recommendations expressed in this publication are the sole responsibility of the author(s).