MEDIA EDUCATION
2023 Journalists Trade Training
Held from 23 to 26 July in Singapore, the NPF International Trade Fellowship 2023 is a four-day journalism training workshop offered in partnership with the National Press Foundation (NPF). 24 Asia-based journalists embarked on an immersive sustainable global trade-focused programme spanning covering a wide variety of themes including US-China trade friction and geopolitics, sanctions, AI's impact on trade and supply chains, pivots in manufacturing, environmental and agricultural concerns, economic growth trends, and more.

View all webinars in this series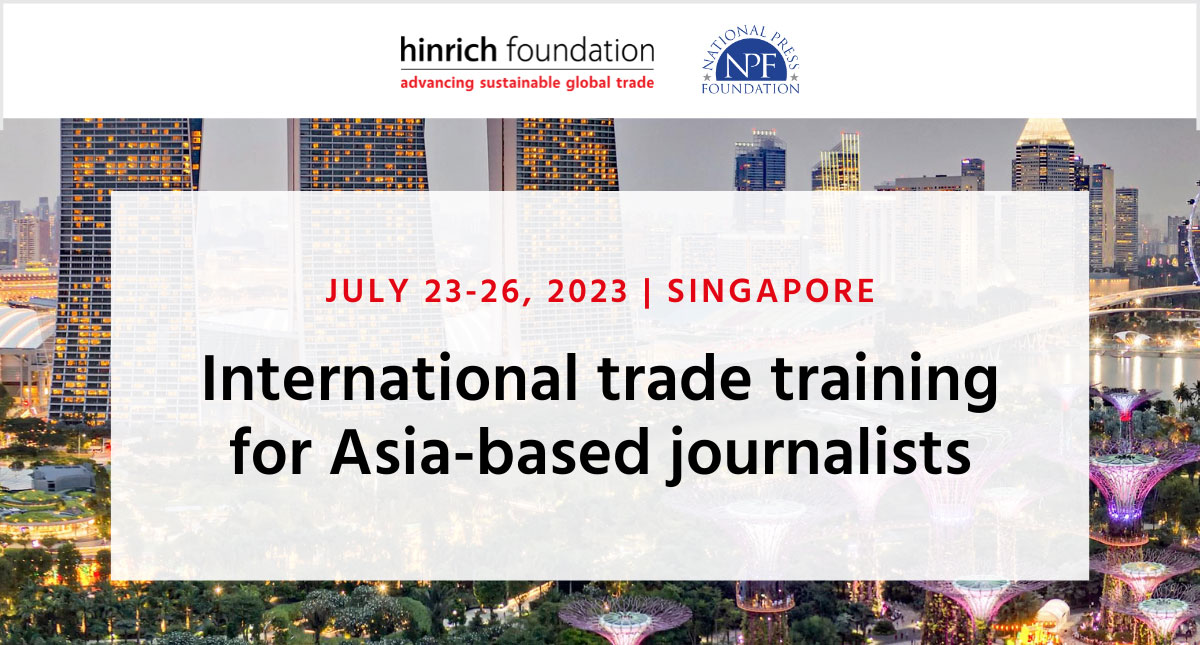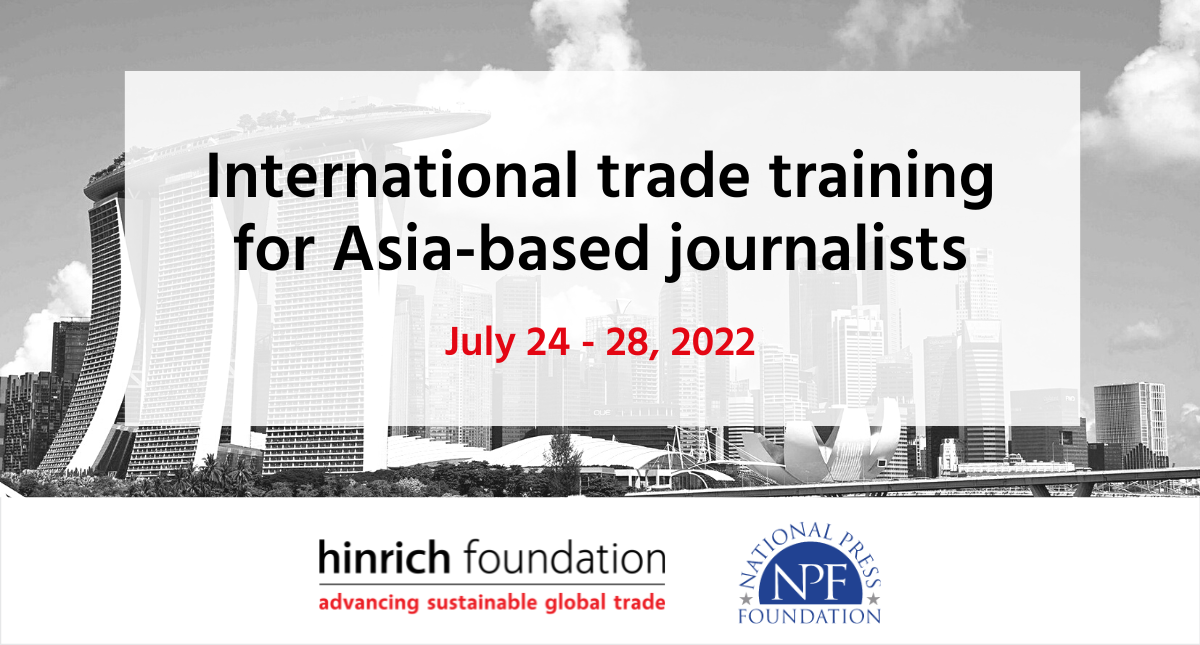 NPF International Trade Fellowship 2022
The National Press Foundation in collaboration with the Hinrich Foundation welcomed 22 Asia-based journalists to its International Trade Fellowship in Singapore. The five-day workshop, held at the Foundation's offices in Singapore, touched on digital trade, trade agreements, and U.S.-China trade friction among other issues.
---
Telling the global trade story
Sponsored by the Hinrich Foundation, the National Press Foundation launched a series of online briefings covering all aspects of global trade. These webinars are designed to keep reporters up to date on one of the most complex and important topics of the day. From trade wars to sustainability, expert speakers discuss the challenges and opportunities facing policymakers and businesses in this rapidly changing environment, impelled by geopolitical calculations, technology advancements, and the looming climate crisis.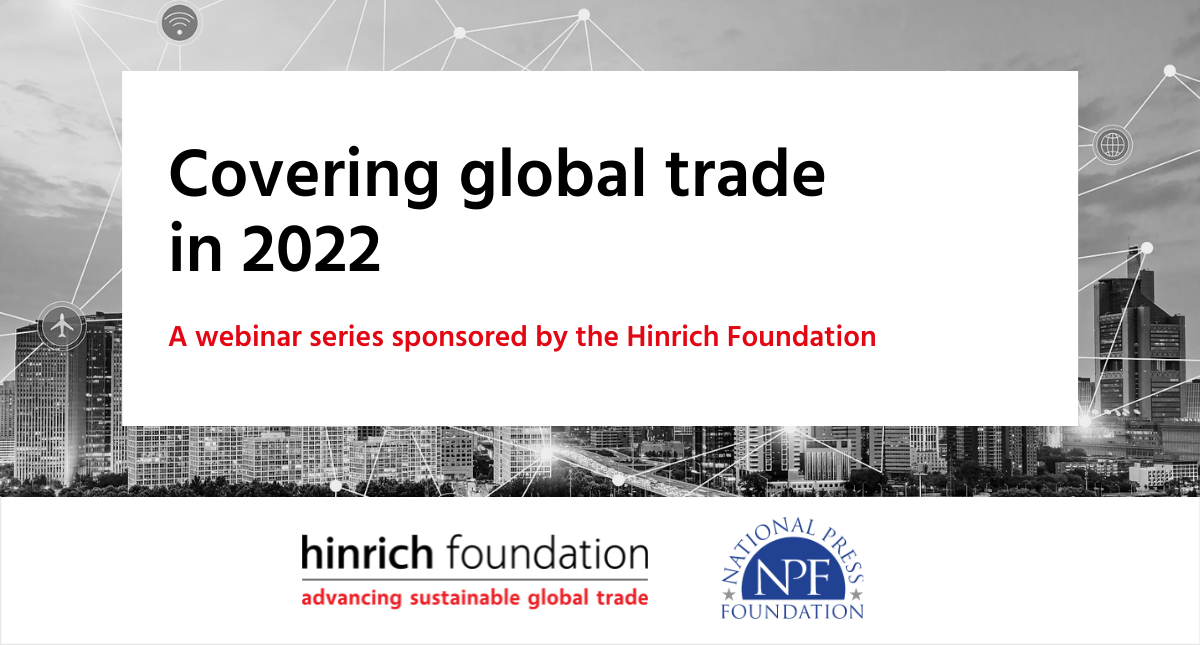 Covering global trade in 2022
As the world slowly rebounds following the shock of the coronavirus pandemic, existing issues such as supply chain bottlenecks, global warming, and Sino-US tensions continue to shape international trade. What are the key trends and persisting questions journalists should look out for? This 2022 series will provide participants with valuable first-hand insights from industry leaders, academics, seasoned reporters, and officials, as they share their views on how the global economy would evolve in the coming years.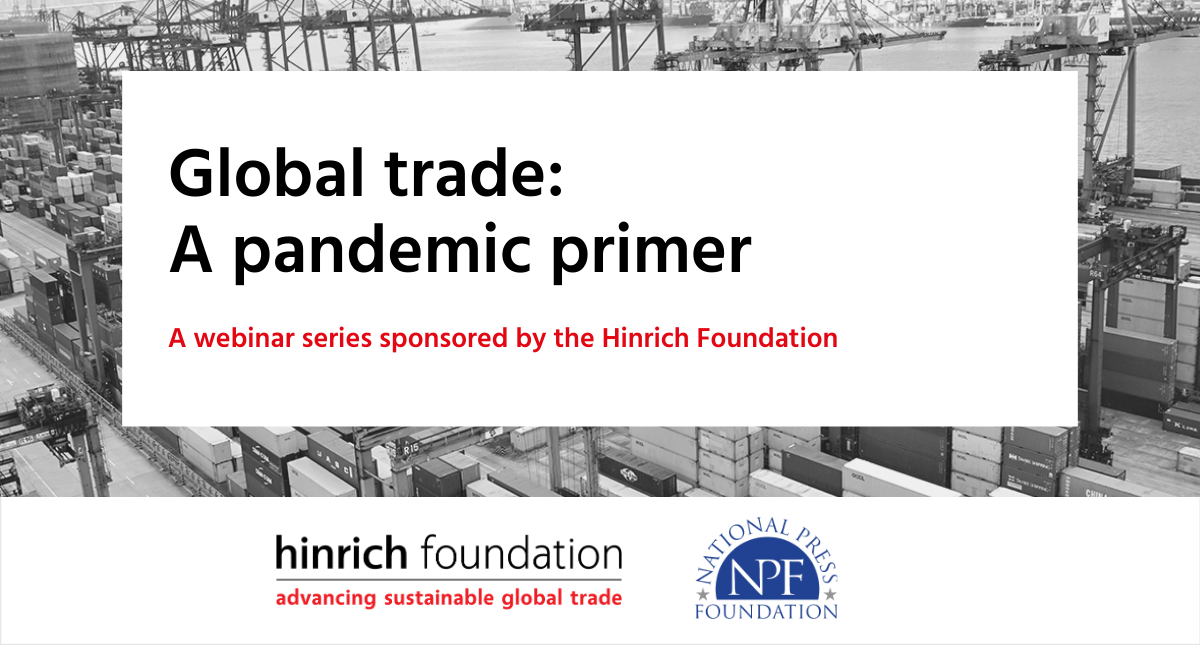 Global trade: A pandemic primer
Despite initial disruptions and anxiety induced by uncertainties, trade marches on during Covid-19 with significant developments. This series of 20 briefings invites journalists around the world to ask some of the leading experts from industry, government and academia about the at-risk supply chains for pharmaceuticals and food; the US-China race to tech supremacy; the waning influence of the World Trade Organization; US trade policy going forward; and more. Understand why and how the future of commerce and globalization may never be the same again.
About the National Press Foundation (NPF)
The primary mission of the NPF is to increase journalists' knowledge of complex issues in order to improve public understanding. Since 1976, the foundation has provided in-person professional development opportunities to thousands of editors, producers and reporters, helping them better understand and explain the impact of public policy on readers and viewers. The NPF also recognizes and encourages excellence in journalism through its awards and programs. The Hinrich Award for Distinguished Reporting on Trade, distributed by the NPF, recognizes exemplary journalism that illuminates and advances the public's understanding of international business and trade.