Advancing sustainable global trade
The Hinrich Foundation is a unique Asia-based philanthropic organization that works to advance mutually beneficial and sustainable global trade through research and educational programs.
---
Understanding global trade
Original research, strategic insights and quick analysis that offer a better understanding of key global trade trends and issues.
Education programs
Master's degree scholarships and short courses for trade business professionals, media and policymakers that provide the practical knowledge and tools to advance sustainable global trade.
RMIT University Master of Global Trade
We are offering 25 scholarships to professionals working across global value chains for the October Master of Global Trade.This unique program equips graduates with the exceptional strategic and 21st century management skills required to drive sustainable trade growth.Find out how to secure your Global Trade Leader scholarship or become an Employer Partner to advance your talent development.
---
Resources, support, and recognition for journalists
Objective analysis of trade trends and issues, short-courses, Masters in International Journalism Studies (MAIJS) scholarships and an award for distinguished reporting on trade.
---
Our experts are trusted by news organizations across the globe

In the news
Media come to us for fresh thinking and deep analysis into the issues impacting global trade outcomes. Read our recent experts' commentaries. Drawn from a wide range of disciplines and sectors, our experts offer valuable views and opinions on achieving sustainable global trade.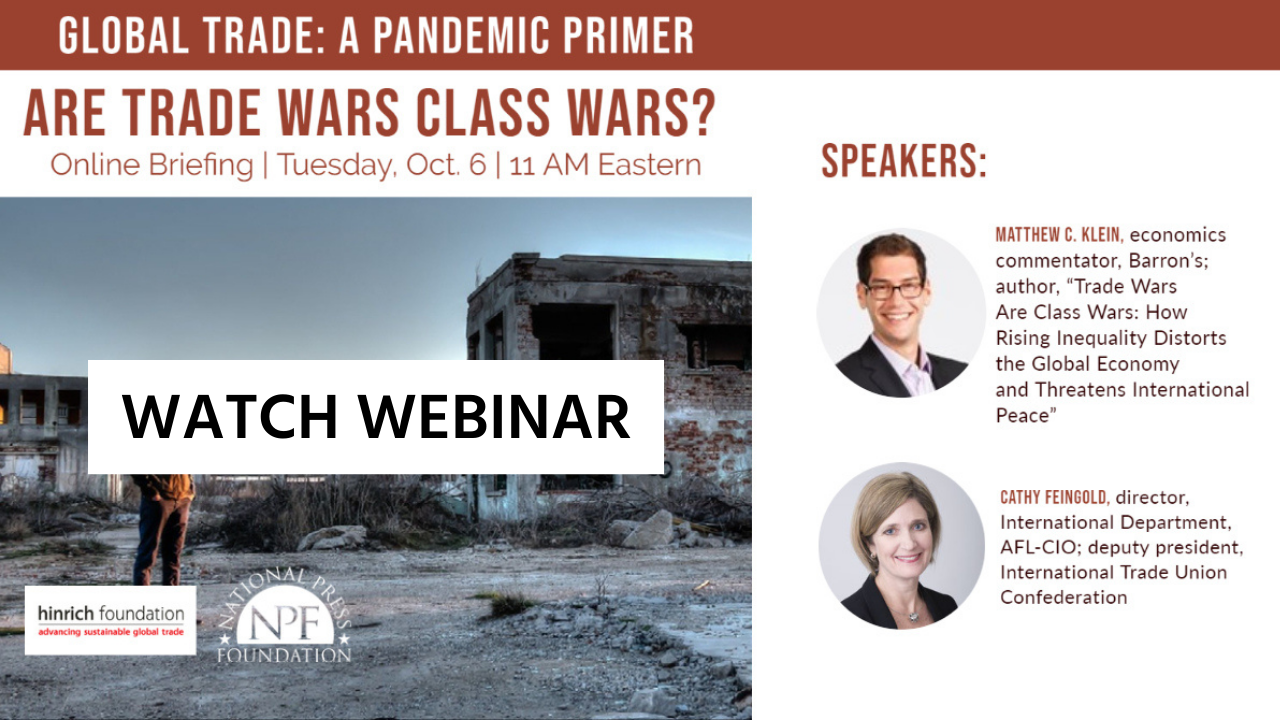 Are Trade Wars Class Wars?
06 October 2020
This briefing explored the relationship between class, globalization, and changes in political leadership in the United States. As the US-China trade war continues to rage, how is the American working class being affected, and what differences would a possible Biden Administration make? Two experts joined us in this discussion.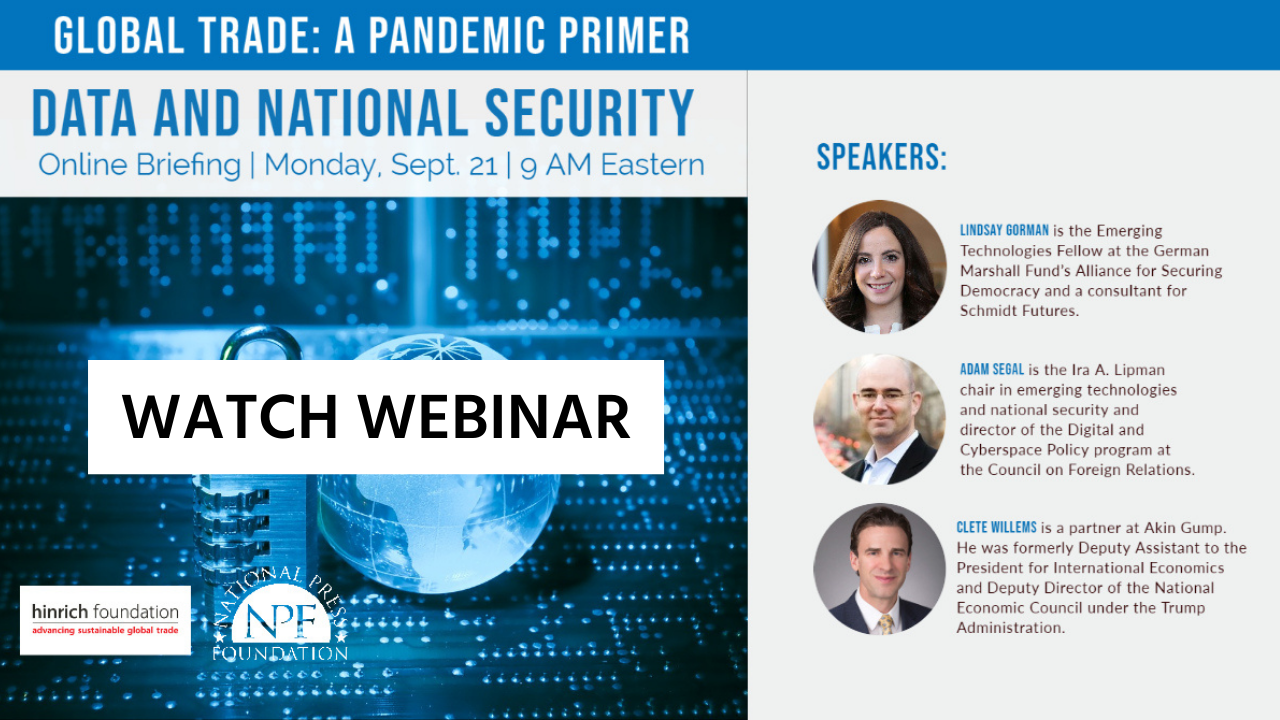 The New War in Digital Trade: Data and National Security
21 September 2020
This panel explored the new digital trade war between the US and China, including the implications of the precedent of banning foreign companies that have potentially powerful technologies from US markets; the risks of retaliation; the effects on foreign direct investment; and the role of the Committee on Foreign Investment in the United States (CFIUS).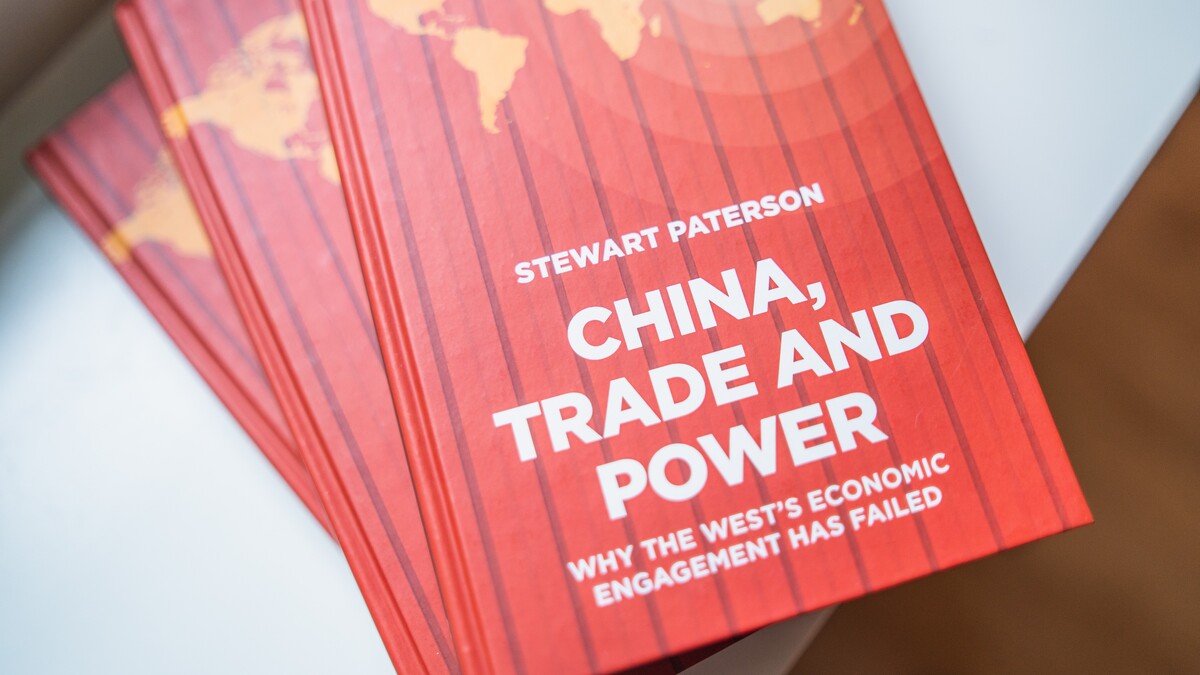 We supported the publication of "China, Trade and Power: Why the West's Economic Engagement Has Failed" to promote reasoned and informed debate on the trade relationship between the West and China. This book, by Stewart Paterson, describes the unintended consequences of the policy of engagement that led to China's accession to the WTO in 2001, and aims to equip policymakers, business leaders and civil societies to contribute to the design of mutually beneficial approaches for sustainable global trade.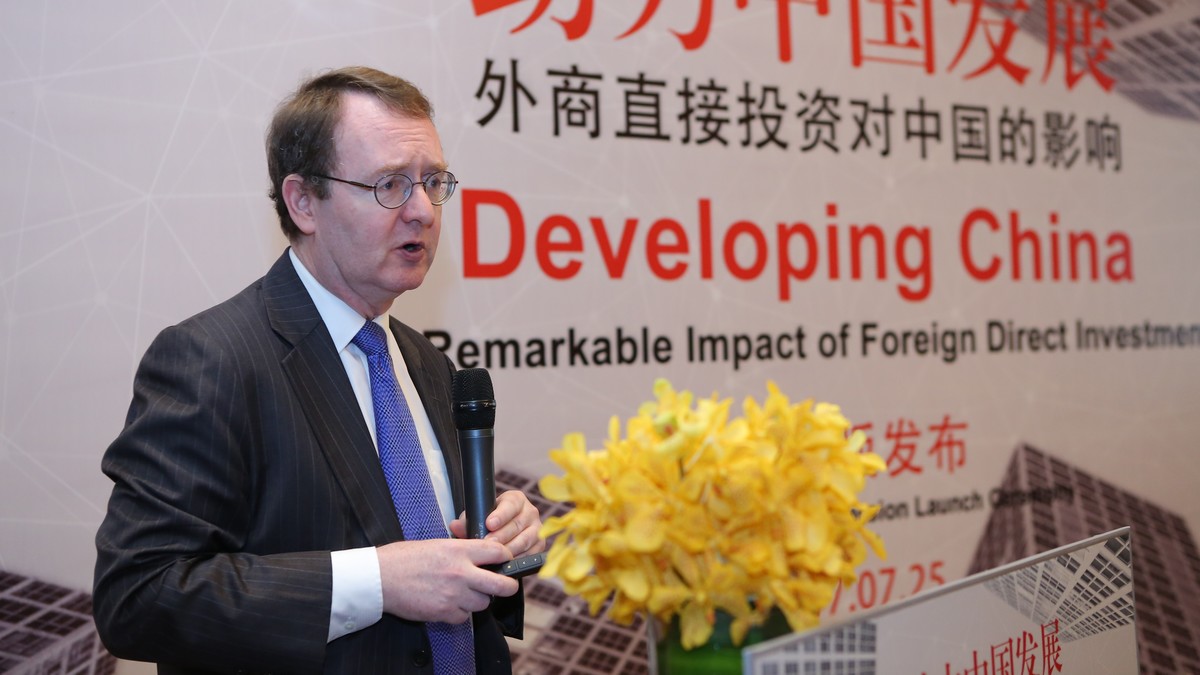 We commissioned Professor Michael J. Enright to lead a major research project identifying the impact of foreign direct investment on China's economic development. The book provides a powerful analysis of China's policies toward foreign investment and gives foreign companies tools to demonstrate their contributions to host countries, showing the tremendous power of foreign investment to help transform economies.